Lessons from the Source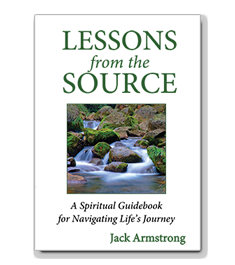 Available in print, audio and e-book formats.
Lessons from the Source is bursting at the seams with concise, easy-to-understand presentations of profound spiritual principles that offer readers a new and reassuring perspective on life and the challenges we all encounter along the way.
Here's how readers have described Lessons from the Source:
A rich tapestry of wisdom that can shift your entire perspective on life, the Universe, and your very existence within it.
Jam packed with simple and practical "life lessons" you can start applying in your own daily life…now.
Like a plain-spoken, warm-hearted friend right by your side, ready to offer solace and reassurance, no matter where you are on your spiritual journey.
Filled with gentle love and unconditional goodness. No rules, no commandments – just reminders of who we really are.